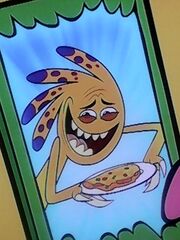 The beast of Muckledunk Blog only horrifies people with his boring observations. Bunsen mentions him in Unhappy Campers when asked about the beast of Muckledunk Bog. He shows a picture of him eating a Denver omelette.
He is a parody of modern culture food selfies.
Bunsen later calls him the Blog Beast when he posts about having a Cobb salad.
Appearances